There's been a lot of talk about death recently. For that matter, there's been a lot of death this year
period
(not that people don't die every year - I'm just saying that there have been a lot more famous people kicking the bucket than usual, or so it seems). Dom DeLuise, Michael Jackson, David Carradine, Farrah Fawcett, Billy Mays, Ed McMahon, Ted Kennedy, Les Paul, Mollie Sugden, Patrick Swayze, Walter Cronkite, Bea Arthur, John Hughes --
-- oh yeah, and btw we're all going to die in 2012 blah blah blah --
-- the list goes on. Seriously, this has been one of the most morbid years I've had the pleasure of experiencing. Add to that a completely random conversation I had with my supervisor about the afterlife, reincarnation, and the Big Bang, and now you have the reason behind this week's theme. Death death death, life after death, death after death, nothing after death, blah blah death.
So, enjoy celebrating the death of another workweek and the death of this summer (ooh! that would have been a good one! too bad it would have
killed
my bandwidth! ha ha ha!) by listening to some songs (et cetera) about death. Yippee!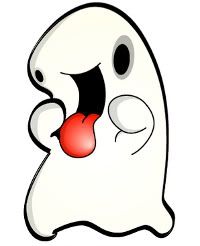 Bat for Lashes
-
"The Big Sleep"
(mp3|4.17MB): If this album doesn't make it as one of my top ten albums of 2009, I will consider the shit to be officially shocked out of me. (Five seconds for you to recover from that mental image. Five, four, three -- PSYCH, you only get three.) Aside from "Daniel," which holds my personal vote for being one of the most moving tracks of the year, the entire album is filled with such lovely, haunting melodies that could either be accused of putting someone to sleep or keeping them awake. On this track, a slightly different feeling of unease overtakes the inherent beauty that lies in this song's simplicity. It's not
bad
, it's just
Scott Walker.
My God, that man is creepy.
(from the 2009 album
Two Suns
)
Carina Round
-
"For Everything a Reason"
(mp3|7.28MB): What the hell is wrong with me? Following up a soft, gorgeous song with another soft, gorgeous song? It's all part of my master plan. No, I don't know what this plan involves, but trust me, it's going to be
epic.
Like the thought of those who loved before being brought back together. Just trust me.
(from the 2009 album
Things You Should Know
)
Modest Mouse
-
"The Parting of the Sensory"
(mp3|8.05MB): First off, I want to diss on all you haters (THAT'S RIGHT, I'M DISSING ON HATERS) who expressed even the meagerest form of disapproval to Modest Mouse's 2007 release, calling it "too polished." I was quite pleased with the return to a
rougher
Mouse, so I don't know what y'all are talking about. Anyway, this song's basically about the fact that we're all going to turn into worm food so it's probably not a good idea to waste your time on Earth hating on an album that was made by a better band than yours with better production equipment than you own. (Oh yeah. I went there.)
(from the 2007 album
We Were Dead Before the Ship Even Sank
)
The Notwist
-
"Off the Rails"
(mp3|3.17MB): Sometimes simple is better. With repetitive, minimalist lyrics and a feather-light, staccatoed harmonic structure, this song drives home a book's worth of feeling in slightly more words than exist in haiku. In fact, I don't think I need to say any more than that.
(from the 2002 album
Neon Golden
)
Regina Spektor
-
"Human of the Year"
(mp3|4.57MB): To me, Regina Spektor exists in a realm of artists (mostly female) that seem to make music solely to encourage me to focus on all the details of humanity and my relation
thereto
that make me emote like a motherfucker. (Please don't try to analyse that sentence. Nothing good can come of it.) Following in the footsteps of the entirety of 2004's
Soviet Kitsch
, this song takes appreciation of individual reaction and utter
humanism
to the point where it seems like it could evoke empathy in even the coldest of hearts.
(from the 2009 album
Far
)
Bonus:
Logan Whitehurst
-
"The Death of Sid Sheinberg"
(mp3|6.88MB): Satan is called "Beelzebuddy." There's no way I can justify this song past that.
(from the 1998 album
I Would Be a Biggest Octopus
)
Okay, I'm done. You can now enter the kingdom of plenty with your seventy-two virgins.
Or, wait. No guarantees. Um. Just forget I said anything.
HEY, LOOK OVER THERE, IT'S A GHOST.
SEND US MORE MAIL, SLACKERS. MY GOLDFISH SENDS ME MORE EMAIL THAN YOU DO AND HE DIED EIGHT YEARS AGO. Ahem. fridayfiveradio@gmail.com. Commit it to memory.