First, let me clarify something: it would be impossible to list even the
major
influences in indie rock in any kind of completist fashion. Rock music as we know it today is as complex as the human genome, drawing from viral and myriad assortments of influences and genres. It's amazing, when you think about it: for centuries, music itself was ridiculously regulated and controlled. Now, we live in a day and age where you can hear Contrapuntus V-style melodics woven around heavy synths and tribal beats, and it's still called "rock." Pretty impressive, huh?
The selection I've chosen for the day was very deliberately intended to be an evolutionary sequence to that classic underground sound - you know, the type of rock that is very obviously
rock
, but has just enough extraneous cogitation and weirdness to make your typical radio-listener shy away.
"But wait!" you might shriek. "You forgot [insert name of artist]! How dare you!" etc. etc. Chill, yo: I probably didn't forget them: I was simply trying to do this without repeating artists that we've highlighted in the past. Not only that, but it's difficult to fit ten
kajillion
bands into five slots. I mean, I could do mash-ups, but trust me, that would only result in tears. Lots and lots of painful tears.
With all of that likely-unnecessary disclaiming aside, here's your Friday Five.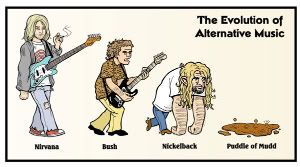 1960s:
13th Floor Elevators
- "
Splash 1
" (mp3|5.42MB): There are few
true
60s psychedelic bands that I can listen to for extended periods of time without wondering why I torment myself in that manner at all. I mean, I know the style is supposed to "free your mind" and "encourage love" and all that, but honestly? Some of it actually makes me want to punch something. A lot of stuff (and I mean a
lot
) was put out during this decade that was considered highly artistic and iconic. I'm led to assume that this is due to the fact that it is
very
difficult for someone to
not
be impressed by something when they are
stoned out of their mind.
On the other hand, take the Beatles. They were
always
on some kind of mind-altering substance, and they gave the world some of the best, soundest music ever released. And this band in particular, though (incidentally one of the
pioneers
of musical psychedelia), while not being as globally recognised as the Beatles, were also unquestionably high. They also put out some damn good music; you can tell - especially in this track - where they were a little ahead of their time, tinting the tie-dye with little drops of the progressive age to come.
(from the 1966 album
The Psychedelic Sounds of the 13th Floor Elevators
)
1970s:
Emerson, Lake & Palmer
- "
From the Beginning
" (mp3|5.83MB): I'm not going to lie. When I first heard ELP, I was in the fifth grade. The song in question was on one of the many poorly labelled two-sided mixtapes in my mom's cassette box. I'm pretty sure that was one of the worst first impressions of a band I've ever had, coming out of the experience with the belief that every song by them was as terrible as "Benny the Bouncer." (Funnier still was the fact that my mom had never actually listened to that particular tape, and she'd had it for four years. I told her she wasn't missing much. This, of course, led to her immediate exploration of the tape's contents, her vociferous approval of every track thereupon, and the subsequent repetition of its songs whenever I was within fifty feet of the house. I think she did it on purpose.) Luckily, I didn't end up going on with my life with an eternal desire to vilify this band, otherwise I never would have stumbled upon gems like this one. Very few songs have come to me at exactly the right time in my life, even fewer by bands I've considered to be simply "meh." The beautiful opening riff from Lake's guitar hit me at a rough spot in high school, and I've long since regarded it as one of the staples of 70s classic rock.
(from the 1972 album
Trilogy
)
1980s:
The Stone Roses
- "
I Am the Resurrection
" (mp3|14.46MB): 2003 was a very strange year for me, musically. I had just moved out on my own for the first time, I was living in a weird, isolated little hilltop town wherein I knew absolutely no one outside of the people from whom I was renting, and I only went downtown once a week. I went a
ridiculous
length of time without discovering anything new. Luckily, 2004 marked my move down into the main part of town, and my co-DJ was quick to send me a care package of about ten albums, one of which was the Stone Roses' debut from a decade prior. Let me tell you this: every song on this album marks a cornerstone of modern rock. These guys literally tilled the ground and laid the seeds for almost all the rock I listen to nowadays with this track in particular, utilising the catchiest rhythms, awesome lyrics, and beautifully driven instrumental breaks in order to do so. Not to mention the fact that it's fucking
epic.
(from the 1989 album
The Stone Roses
)
1990s:
Neutral Milk Hotel
- "
In the Aeroplane Over the Sea
" (mp3|6.90MB): Admit it. You
knew
this song was going to be here. You knew it was going to be here from the moment you read the title. You're probably scratching your head right now, trying to figure out why I posted a download link to it at all, considering every self-respecting indie nerd has this album and salivates over it on a regular basis, not to mention can play this song on guitar even if they don't
have
a guitar. But I'm a sucker for consistency, so there you have it.
(from the 1998 album
In the Aeroplane Over the Sea
)
2000s:
Broken Social Scene
- "
Anthems for a Seventeen Year-Old Girl
" (mp3|4.21MB): Everyone remembers the startled review of this album given by
an unnamed music site
, and then how BSS literally skyrocketed almost overnight to become one of the most critical indie rock acts of the known universe. It was almost perverse. There's a reason for it, though, just as I like to think there's a reason for everything, and it isn't at all a credit to the media: it really just is a solid, nearly-flawless pop record. This song is one of the mellower, more pretty-for-pretty's sake tracks on what is otherwise an exercise in music professionalism and versatility, but it becomes captivating
through
the fact that it's completely unassuming and simple. Interesting how that works, yeah?
(from the 2002 album
You Forgot it in People
)
Well, that's it for this week. Check back Sunday for your weekly dose of superlatives; in the meantime, have a great weekend!
Requests, comments, marriage proposals, pictures of gift baskets, and all other forms of communication to persons living or dead should be sent to fridayfiveradio@gmail.com.